TRUMTRUM / MIKAEL ERICSSON / CV / ABOUT / ARCHIVE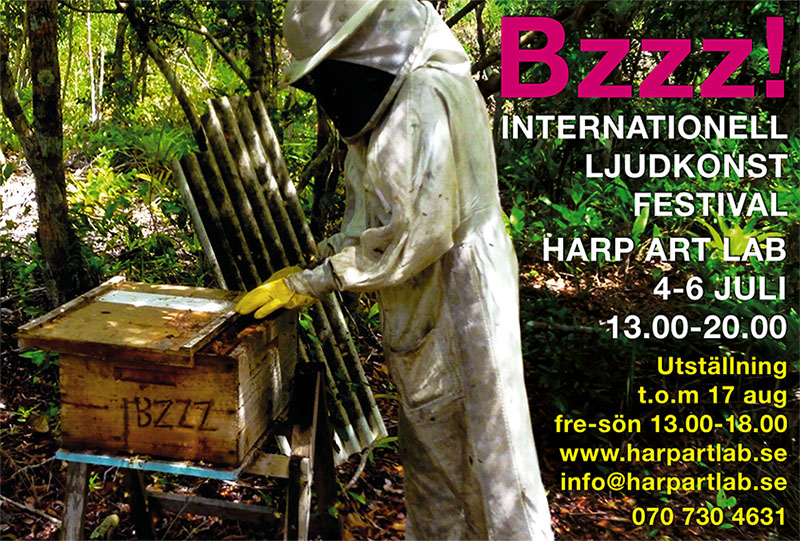 BZZZ Internationall Sound Art Festival 2014
Harp Art Lab July 4-6 (exhibition july 4 - aug 17)
See more: www.harpartlab.se

Millophonia meets Amici del Canto - choir from Wuppertal, Germany
See more: www.harpartlab.se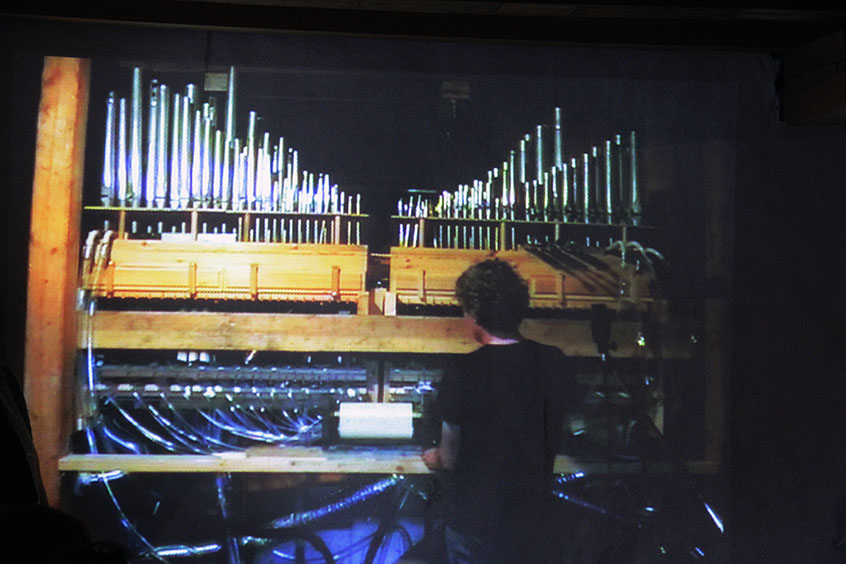 MILLOPHONIA at SUPERMARKET 2014 - STOCKHOLM INDEPENDENT ART FAIR FEB 14-16
www.supermarketartfair.com

MILLOPHONIA is a site specific sound installation in Harp Art Lab windmill by Mikael Ericsson. The sails, of the windmill, are running two enormous bellows that are supplying a modified pipe organ with air. The sound is controlled by a pneumatic mechanism that operates the pipe organ action via piano-rolls that are preprogrammed by the artist. This procedure is 100% handmade by cutting, punching and stitching it all together to feed Millophonia with fresh sound art.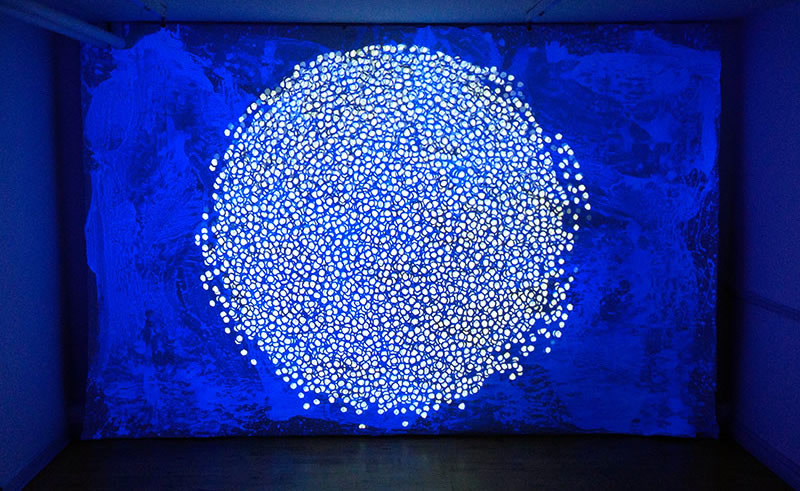 MISSION ACCOMPLISHED/ MIKAEL ERICSSON / 2013
One Sculpture, Two Paintings, Three Projections

Innanför höljet öppnar sig en ny och egendomlig värld, ett annat kosmos, där ordningen i tillvaron är oordning, tillfälligheter, mystik. Fragment av minnen, berättelser, föremål och bilder griper tag. Ett filmiskt verk. Obönhörlig teknikutveckling som lekfullt rör sig över väggar och golv. Biologiska robotar. Ett samspel mellan olika uttryck. En ensam partikelaccelerator inbjuder till reflektion. Det skulpturala rummet, animationer, måleri, ljud, ljus, skräp och skrot. Noggrant genomtänkt och slutligen improviserat på plats.

Fotografier från utställningen

Recension Sydsvenskan 20/9 2013

GALLERI 21, MALMÖ 14/9 - 6/10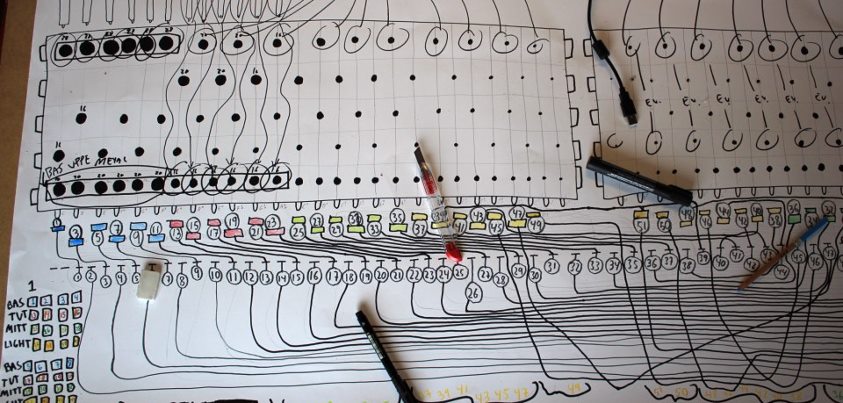 KVARNOFONI - MILLOPHONIA / MIKAEL ERICSSON / 2012 - 2013
Permanent Sound Installation
Harp Art Lab, Harplinge Windmill, Sweden
22 x 22 x 28 m

Read about the project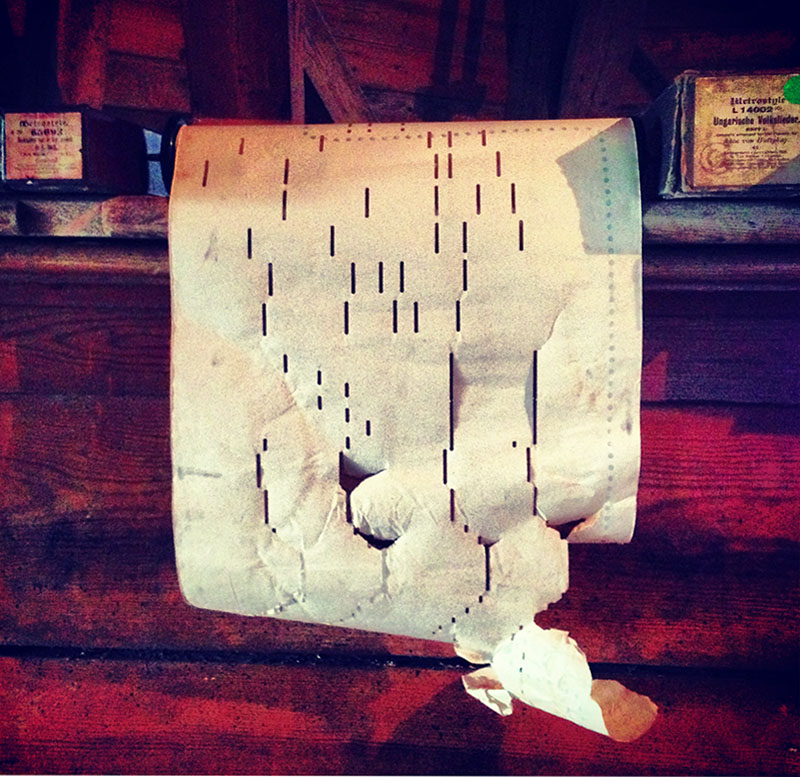 UTAN KVARNFONEN STANNAR SVERIGE!
SVERIGE! SVT1 7/9 KL 19 samt SVT24 8/9, SVT1 9/9, SVT1 14/9 + SVTPLAY

Många väderkvarnar står numera öde, men Sverige! har besökt kvarnen som förvandlats till ett jättelikt musikinstrument. I Harplinge i Halland har konstnären Mikael Ericsson byggt in allt från gamla orgelpipor till pianorullar från England i en ålderstigen kvarn. När vinden får fart på kvarnvingarna rullar "musiken" igång. Riktigt hur det hela fungerar avslöjar han inte. Många tonsättare har besökt hans experiment för att försöka förstå hur "instrumentet" är byggt.
– Det är bara jag som vet hur musiken uppstår, ingen annan förstår. Jag blir överraskad varje gång, det låter aldrig likadant, berättar Mikael Ericsson.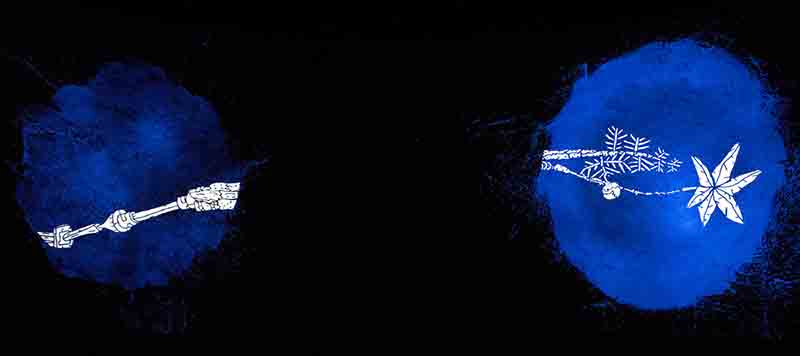 THE ANT NEBULA / MIKAEL ERICSSON / 2012 - 2013
Large Scale Video Installation with mobile projectors, sculptures, UV-light and sound
Sense and Sensibility 2012 / Heart and Brain 2013, Avesta Art, Sweden
15 x 20 x 5 m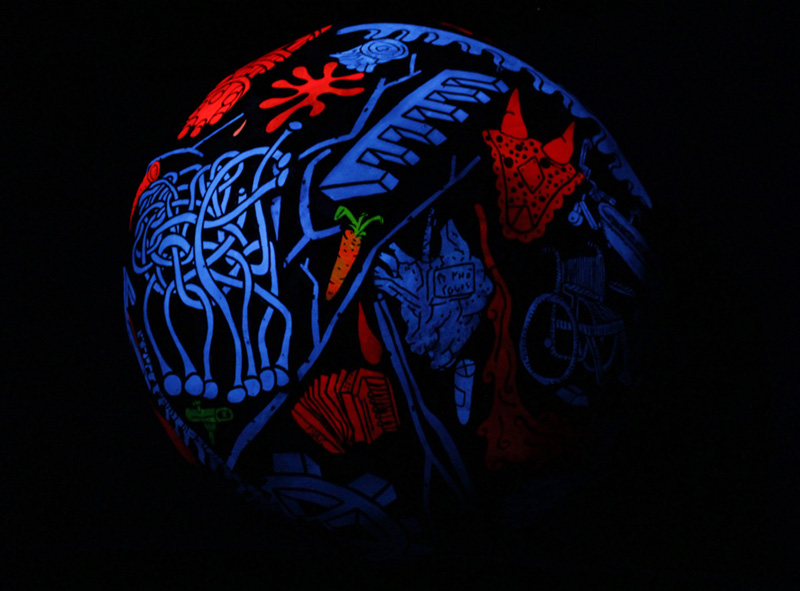 Read about the project

THE ANT NEBULA / MIKAEL ERICSSON / 2012 - 2014
Large Scale Video Installation with mobile projectors, sculptures, UV-light and sound
Sense and sensibility, Avesta Art, Sweden
15 x 20 x 5 m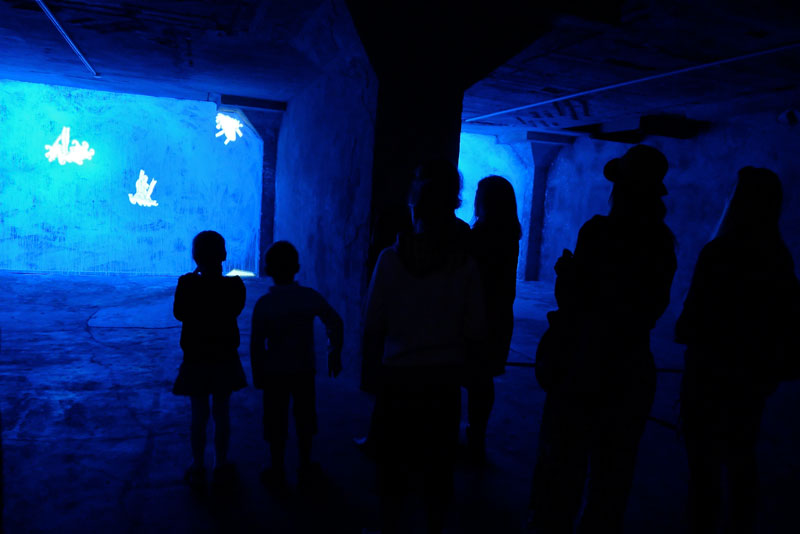 NOTES FROM THE TWIN CHAMBER / MIKAEL ERICSSON / 2011
Video Installation with two stationary projectors, UV-light and sound
Scream, Vestfossen Kunstlaboratorium, Norway
10 x 10 x 3 m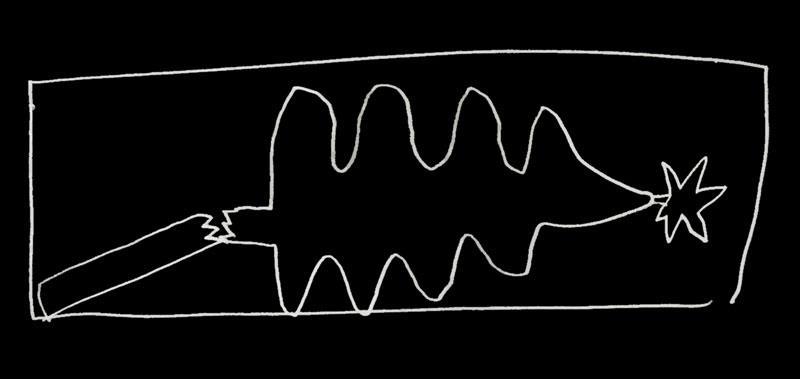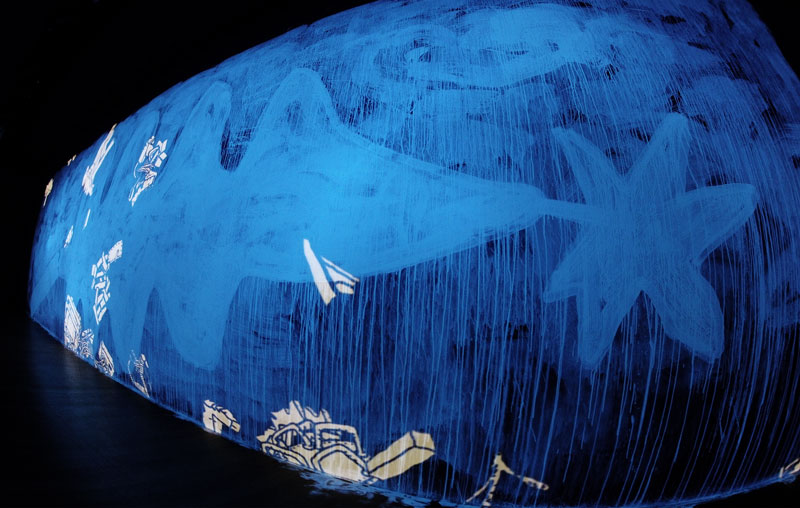 GRANEN KLÄDD AV SINA UNGKARLAR, TILL OCH MED / MIKAEL ERICSSON / 2011
Video Installation with two stationary projectors, UV-light and sound
Do It Yourself! Moderna Museet, Stockholm, Sweden
12,5 x 4,5 m

Photos


UNDERGROUND OPERATION / MIKAEL ERICSSON /2010
Video installation with UV-light, sculptures and sound
Varberg Fortress, Sweden
40 x 15 x 6 m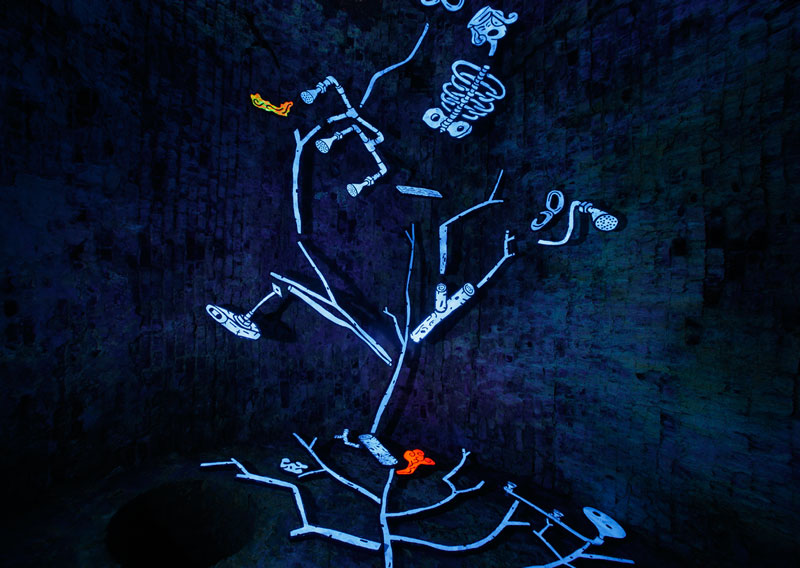 UNDERGROUND OPERATION / MIKAEL ERICSSON /2010
Video installation with UV-light, sculptures and sound
Varberg Fortress, Sweden
40 x 15 x 6 m

Photos


DARK HONEYMOON / MIKAEL ERICSSON / 2009
Video installation with mobile and stationary projectors, UV-light and sound
Får ej övertäckas, Eskilstuna Konstmuseum, Sweden
18 x 20 x 3 m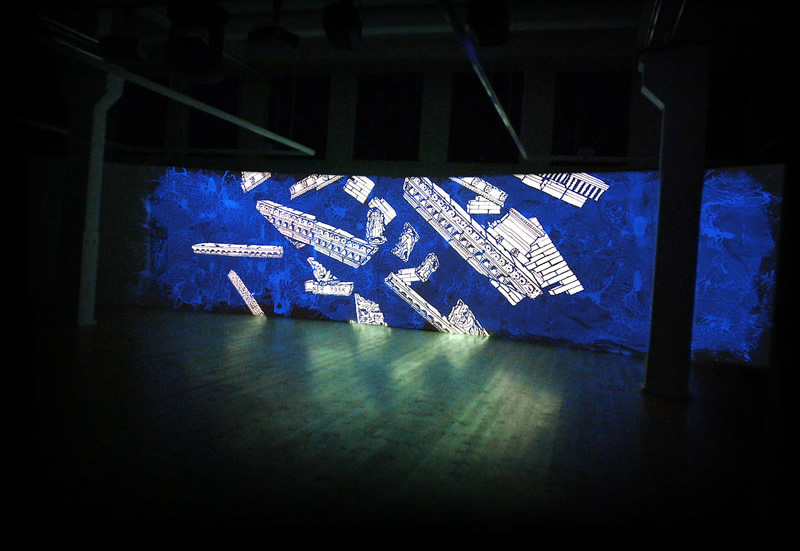 DARK HONEYMOON / MIKAEL ERICSSON / 2009
Video installation with mobile and stationary projectors, UV-light and sound
Får Ej Övertäckas, Eskilstuna Konstmuseum, Sweden
18 x 20 x 3 m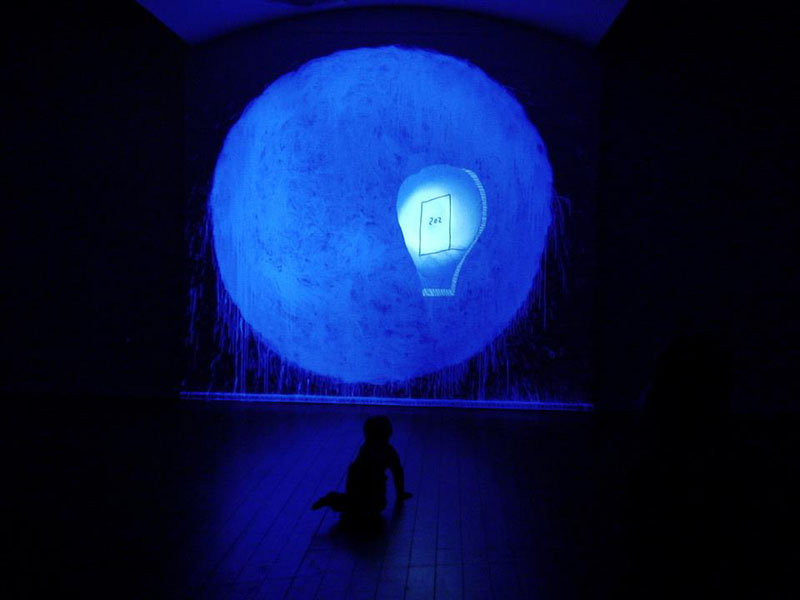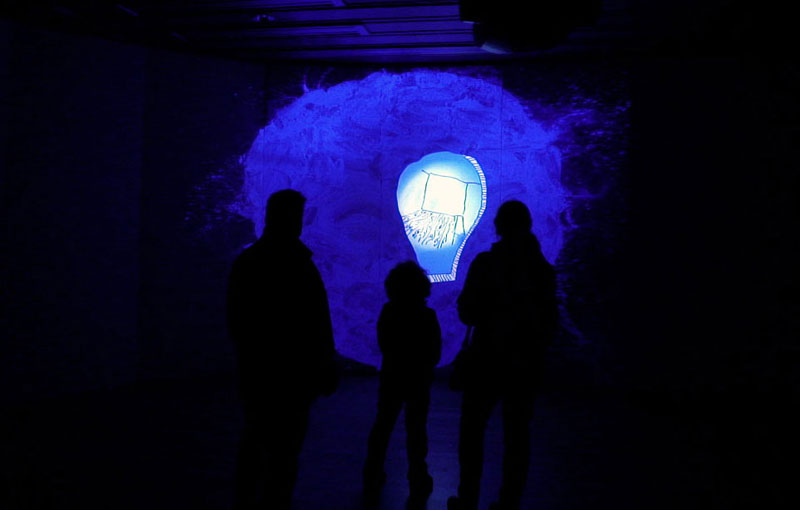 THE ROOM WAS EMPTY APART FROM A SHELF ON THE WALL / MIKAEL ERICSSON / 2008
Video installation with mobile projector, UV-light and sound,
Malmö Art Museum, Sweden
13 x 14 x 4,5 m

KVARNOFONI - MILLOPHONIA / MIKAEL ERICSSON / 2012
Permanent Sound Installation
Harp Art Lab, Harplinge Windmill, Sweden
22 x 22 x 28 m

q

BANK FÜR ALLE / MIKAEL ERICSSON / 2003
Teve serie för Sveriges Televsion i 6 avsnitt
Regi: Mikael Ericsson / Manus: Mikael Ericsson och Peter Wahlbeck

Finns att se här: SVT / ÖPPET ARKIV


Contact: ericsson@trumtrum.se
Tel: +46 (0)70 7304631

For more information visit:
MORE WORK AND PROJECTS
CV
ABOUT